Auditing Career in Pakistan, Job Market, Future, Demand and Scope
Auditing is a systematic process of objectively obtaining and evaluating the accounts or financial records of a government undertaking, department, private business, or other entity based on an established criteria. This is a detailed article about auditing field, it's scope, jobs market, admission eligibility criteria and much more.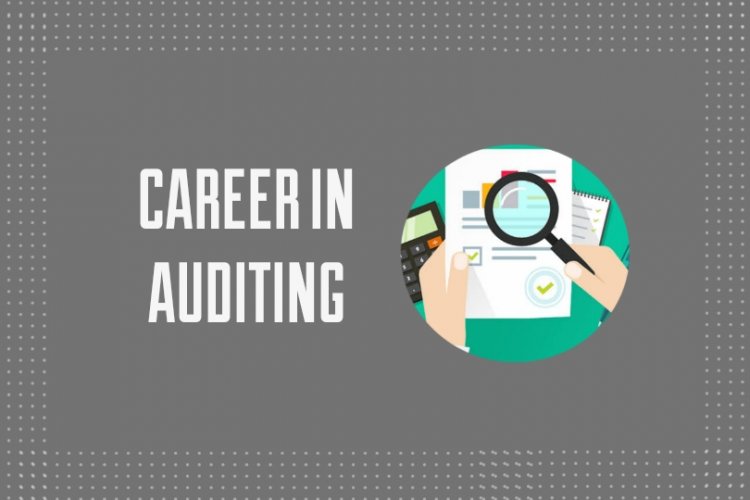 Auditing : Introduction
If you are meticulous and have a flair for numbers, auditing could be a right career choice for you. Auditing, one of the main career options in the field of accounting has a vital role to play in each and every organisation, be it public or private sector. Auditing could be termed as the bread and butter work of accounting which involves checking ledgers and financial statements within an organisation.
Auditing is a systematic process of objectively obtaining and evaluating the accounts or financial records of a government undertaking, department, private business, or other entity based on an established criteria. In other words, Auditing involves the review, analysis and evaluation of processes, products, services, systems, organizations and employees. It is a specialized form of accounting for an organization's financial information, which includes systems, policies and records. While auditing focuses largely on financial information, the process also may involve examination of non financial documents that reveal information about a business's conduct.
Traditionally, audits were mainly associated with gaining information about financial systems and the financial records of a company or a business. An auditor is a person from the accounts department who is trained in auditing. The main job of an auditor is verification of a company's financial records. Auditor determines the efficiency, adequacy and effectiveness of the organization. They also review the reliability and integrity of management and ensures compliance with policies, procedures and laws. They are primarily responsible for maintaining accurate records and helping organizations operate efficiently. In addition to monitoring a companies finances, they often make recommendations for greater compliance and better management policies. Auditors may have many different roles within organizations, from tax law specialists to internal resources auditing professionals. Regardless of their respective areas, all auditors are vital to the financial health of organizations.
Major type of audits conducted by auditors include financial audit, operational or management audit and compliance audit. A financial statement audit (or attest audit) examines financial statements, records, and related operations to ascertain adherence to generally accepted accounting principles. An operational audit examines an organization's activities in order to assess performances and develop recommendations for improved use of business resources. A compliance audit has as its objective the determination of whether an organization is following established procedures or rules.
Job Prospects & Career Options
With the growth in the economy and the number of business concerns boosting day by day, demand for auditors are increasing to ensure the credibility of the financial accounting data and financial statements in the private sector as well as public sector companies. One should not pursue a career in auditing merely because it is a lucrative filed, he/she must really love working with numbers and have an aptitude for mathematics. Companies registered under Companies Act are required to get audited annually. This has also made auditing an evergreen career field.
Rapidly changing technology and new software packages have made the work of auditors much more easier. Record keeping and data management which was a tedious job earlier, has now become trouble free. Auditors typically can take advantage of career mobility, meaning they can switch careers between internal auditing and public accounting or from management accounting to internal auditing. Internal auditors also learn the skills needed to become upper-level managers through their work, reviewing internal controls of business units.
In the beginning, most of the auditors work under the supervision of an established auditor. After gaining experience they can work independently. A qualified auditor has the option of joining Government Service, Public Sector undertakings or taking up a lucrative assignment in the private sector. Some auditors work as teaching staff in colleges or universities. Auditing professionals may be self-employed and serve the needs of individual clients. i. e. Auditing professionals are required in virtually every company, nonprofit organization and government agency. Those employed in large firms are in part responsible for an organization's financial health. Nonprofit organizations are also very much reliant on auditors for continued solvency.
Types of auditors
Internal auditors:
Internal auditors are employed by individual corporations, government bodies or other entities. Internal auditors work for the organisation they audit. Their job is to make sure the organization runs efficiently and effectively. They perform financial, internal control, and compliance audits for the employer. Internal auditors verify the effectiveness of their organization's internal controls and check for mismanagement, waste, or fraud. Sometimes they also help the external auditors with the financial statement audit.
External auditors:
External Auditors are also known as Independent Auditors or Professional accountants in public practice. An External Auditor audits financial statements for companies, and other organizations. They also give advise in preparing income tax returns and provides guidance in matters concerning compensation and healthcare benefits for employees. They are usually self employed.
Government auditors:
Government auditors work in the public sector, they are employed by local and state governments. Government auditors maintain and examine the records of government agencies, and audit private businesses and individuals whose activities are subject to government regulations or taxation. Government auditors main task is to act as assurance on compliance audit and operational audit.
Forensic auditors:
Auditors could specialise in Forensic accounting. Forensic auditors often discover information that's used as litigation support. Forensic auditors mission is to detect, investigate and deter fraud and white-collar crimes. Forensic auditors are often employee's of corporations, audit firms, government agencies and investigative and consulting services firms.