Career in Political Sciences, Job Market, Scope, Eligibility and Course Areas
This is a detailed article about career in political sciences, it's scope, jobs market, admission eligibility criteria and much more.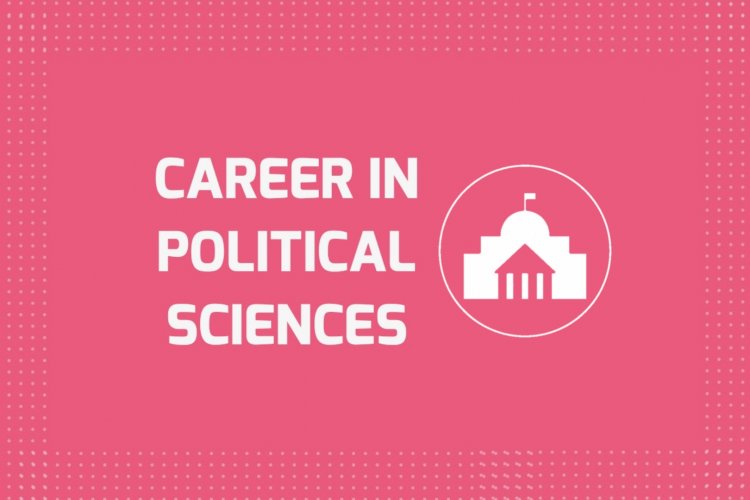 Introduction
Political science is a field of social science which deals with the theory and practice of everything related to politics. Political science involves the study of the political behaviour, system and the political structure of the country or an organisation. It is a very broad field which incorporates the study of historical and modern systems, governmental policies and procedures, foreign policies, public administration, international relations and public affairs. In other words, it is a social science that involves the study of governmental systems and general principles that govern the world of politics.
Political science plays a significant role in our daily lives. Our education, jobs, lifestyle, remittances and taxes are all influenced by political decisions of the policy makers. Political science also play an important role in the development of future leaders. It is an excellent humanities subject best suited for students interested in learning how groups of people govern themselves, how policies are made, and how we can improve our government policies at the local, state, national and international levels.
Herbert Baxter Adams, a professor of history at Johns Hopkins University coined the term 'Political Science' in 1880. Now Political Science is taught in all the major institutes in Pakistan and abroad. Political science include philosophical, historical and analytical studies of governments, politics and policies. As a field of social science, political science is the study of constitution of a country and different political aspects.
Those who study political science are known as political scientists. They have huge scope for employment in both government and private sectors of the country. Political scientists solve the nations and worlds problem, by using tools, both humanistic and scientific, and a variety of methodological approaches to examine the process, systems and political dynamics of all countries and regions of the world. Political scientists may focus on political behavior, decision making processes, organizations and public policies. They conduct research on a wide range of subjects- such as political scenario in different nations, major cities and towns; major court decisions on political affairs; relations between Paakistan and other countries etc. They analyse the structure and operation of government, election results and conduct public opinion survey on political matters.
Skills once acquired through a course in political science, also prepares graduates to become leaders in other settings where it is valuable to understand the political context, consequences, and origins of laws and legal institutions. Other than in the political field, students can have a flourishing career with organisations like banks, consultancies, law firms, social research organisations, embassies, colleges, institutes etc. The aspirants for a career in political science, should have vast general knowledge, and should be able to interpret and perceive things well.
Eligibility & Course Areas
Educational
From school level onwards, everyone is familiar with this subject field as part of their curriculum. After 10+2 one can take bachelors degree in Political Science, and go further to take up Masters degree. After that there is also the option for Ph.D i.e to do research.
Political science course covers subjects like forms of democracy, concept of nationhood, powers and functions of the executive and judiciary, the evolution of the Constitution, political thought and theories, foreign policy, contemporary issues in international relations, public administration and public policy formulation, as also subjects like economics and sociology.
Most of the job opportunities in political science require an advanced degree. One can enter this field after a Bachelors degree in political Science. However to take higher positions Masters degree is required. The career scope of students with political science as their subject is quite bright.
If you want to become a Political Science/Social Science teacher, in colleges Master is needed and in universities Ph.D. Those with graduation in this subject field can attempt CSS and other competitive exams and enter into government service.
Personal attributes
In addition to educational qualification many personal attributes are also required for a career in this subject area. The prerequisites for a career in Political Science are
Leadership Qualities

Analytical Thinking Ability

Interpersonal Relationship

Alert Mind

Problem Solving Skills

Communication Skills

Good Judgment

Decision Making

Intellectual Curiosity

Self-Confidence

Ability To Face Stress

Diplomacy
Apart from all these, awareness about socio-economic, political and international issues is an essential requirement.
Job Prospects
Approximately 75% of political scientists are employed by educational institutions. Earlier career options in this field was too narrow, mostly limited to academic field alone. But now it has changed and scope is brighter and one can choose among a variety of fields. There are lot of opportunities in federal and provincial government services also. You could choose to be a political analyst, join the civil service, serve in the Pakistan Foreign service and even teach at the college or university level. They can also opt political journalism as a career choice.
Career options
Law - People who fully understand the nature and meaning of constitutions, rulings and regulations often pursue political science and law can go on to law school and become attorneys because of their deep desire for justice and making positive changes in the world.
A graduate in political science can often pursue a political science career as a judge. The knowledge gained in their studies can help them place themselves in a position of power from appointments with mayors, governors and even presidents.
Teaching- Teaching is another popular profession for Political Science students. A substantial majority of political scientists teach in intermediate colleges, Degree College, or at university graduate departments and management institutes. Depending on the institution for which they work, political scientists have the choice between teaching and researching.
Research - Research is the next main career option within Political Science related to teaching. Many teaching positions, particularly in the universities but also in colleges, Information Technology Institutes, Management Institution require research activities. One can do research in a variety of employment settings-in a university, institute, business or industrial firm, N.G.O. or even in the non-profit or advocacy sector. There are some premier Universities and research institutions in Pakistan which need Research Analysts/Research Fellows/Research Associates for carrying out policy relevant projects. Individuals with specialized knowledge of public policy and survey analysis can find jobs in these universities and research institutes.
In addition to teaching and researching, political scientists write books and articles based on their studies.
Political Journalism - Being a political journalist is also an attractive option. Political science graduates choose to become involved in print, television or radio journalism, where they apply their expert understanding of political systems to create reports about current events. Political scientists might cover elections, conduct interviews, or attend press conferences where they often have the opportunity to ask questions. Political science graduates can also join the media as political correspondent/analyst/ researcher. However, students entering into this field must also have a degree in journalism or at least sufficient knowledge of journalism.
Civil Service - This is possibly the most popular choice of many political science students. The study of political science enables you to understand governance and how it functions, as well as a detailed knowledge of public administration, political theory and philosophy that can help you in a career in government. After passing CSS exam one can enter into a career in civil service sector.
Political advisors - Political advisors are political science experts who work alongside politicians and government officials, helping them make important decisions in a number of different situations.
International Relations - With a background in law, public administration and communications, political science graduates are best suited for such a career.